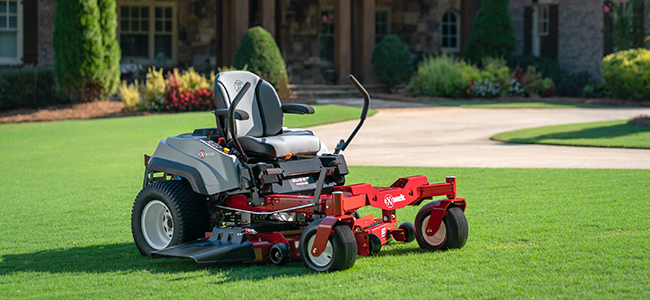 If you've got several acres (or more) to mow, you may have commercial mower envy. Mowers that professional landscapers use typically have larger decks and more powerful engines. They can trim mowing time as easily as they trim along borders, but the prices can carry some serious sticker shock.  Residential zero-turns designed with professional parts, so they deliver professional results, are a great fit for homeowners who mow their own acreage.
Exmark Quest residential zero-turns deliver professional cut quality at the lower price point than commercial mowers. However, it still has professional-grade features and provides the comfort and durability pros demand of their machines. The intuitive controls and improved stability of Quest mowers make them easy to use. Professional-grade features include a smooth hydro-drive system, V-twin engines, and fabricated and welded floating steel decks. And with a top forward speed of 7 miles per hour, Quest machines can mow at a professional rate.
No matter how much you love your lawn, you don't want to spend hours keeping it in shape. (Let's face it, there are better ways to spend time in your backyard.) Quest mowers are outfitted with decks ranging from 34" to 60". An E-Series with a 42" deck can mow up to 2.37 acres per hour. With a 60" deck, the Quest S-Series can cut up to 3.39 acres in an hour. This means more time enjoying your yard with friends and family.
To help you get the lush, perfect lawn of your dreams with less effort, Quest's standard side-discharge decks can be rigged for mulching or bagging. It's easy to adjust the deck height in half-inch increments, from 1.5" to 4.5", allowing you to cut areas close to the house shorter, but leave others slightly longer. With optional micro-mulching and turf striping kits, you can achieve the look of professional lawn maintenance.
Even if you're spending less time, mowing is more enjoyable when you're comfortable. Quest mowers feature improved ergonomics that help reduce stress on shoulders and arms. Both the E-series and S-series are equipped with high-backed adjustable seats. The premium ergonomic seating system delivers a smooth ride even on rough and uneven ground. The seat on the S-series is upgraded with a contoured foam back, padded armrests, and spring suspension.
Professional grade parts and engineering mean Quest is low maintenance and durable. A few of these features are standard: A rear engine guard protects critical engine components. The transmission is built with heavy-duty components to reduce wear. Blade spindles are sealed and maintenance free. Welded wear strips and 10-gauge steel provide solid, long-lasting deck construction.
See how homeowners rely on Exmark mowers to maintain their dream yards.
If you're ready to stop envying the pros' mowers, it's time for a Quest residential zero-turn. To test one out, find your local Exmark dealer.