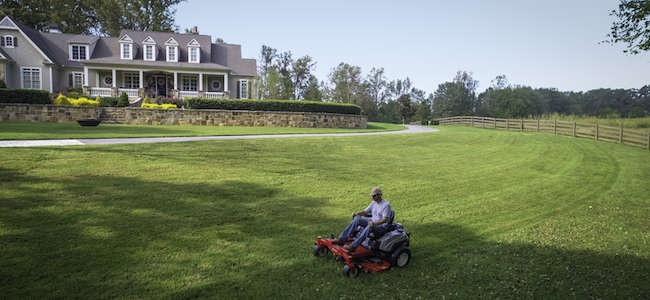 A commercial mower can appealing to homeowners with several acres to mow. Their powerful engines and wider decks cut down mowing times and can handle an overgrown lawn; however, the price tags can be intimidating. And even the largest lawns don't need a mower designed for all-day, every-day use. What these homeowners would find a better fit for their lawns is a residential mower designed with professional-grade parts that delivers professional results. What these homeowners need is Exmark's Quest residential zero-turn.
Quest mowers deliver many commercial-grade features, comfort and durability at the lower price point of a residential mower. Its low center of gravity provides improved handling, and intuitive controls mean that it's easy to use. Professional-grade features include V-Twin engines, an ultra-smooth hydro-drive system, and fabricated and welded floating decks. Quest mowers operate at a top forward speed of 7 miles per hour.
The Quest E-Series comes with your choice of 34" or 42" Series 2 cutting decks. Mow over 2 acres an hour with the 42" deck. Quest S-Series is equipped with your choice of a 50" or 60" Series 2 cutting deck. A Quest S-series with a 60" deck can mow up to 4 acres per hour. On both series, the standard side-discharge deck can be rigged for mulching or bagging. Cutting heights are adjustable in half inch increments, from 1.5" to 4.5". Optional micro-mulching and turf striping kits help turn your lawn into the lush, perfect lawn of your dreams.
Mowing the lawn is more enjoyable when you're comfortable. Both the E-Series and S-Series are equipped with high-backed adjustable seats. The premium ergonomic seating system delivers a smooth ride even on rough and uneven ground. The seat on the S-Series is upgraded with a contoured foam back, padded armrests, and spring suspension.
Because Quest is professional grade, it is designed to be low maintenance and durable. A standard rear engine guard helps protect critical engine components. The transmission is built with heavy-duty components to reduce wear. Blade spindles are sealed and maintenance free. Welded wear strips and 10-gauge steel provide solid, long lasting construction.
If it's time to stop envying the pros' mowers and make your lawn the envy of the neighborhood, it's time for a Quest mower. Find your local Exmark dealer and demo a Quest today.
SHARE