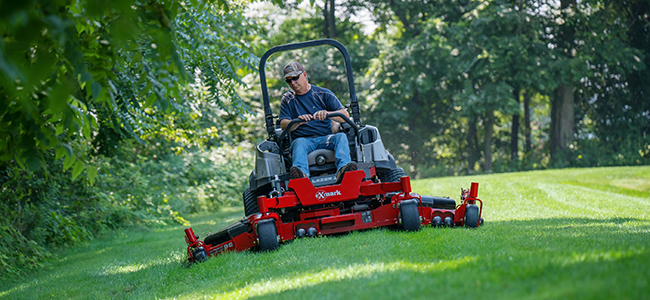 When it's time to upgrade your company's mower fleet, your decisions go beyond zero-turn or walk-behind and deck size. You also need to consider fuel options. There are many benefits of diesel mowers for commercial lawn care operations, but what's right for your business will depend on your priorities and the type of properties you mow.
Diesel Mowers Offer Durability
Diesel mowers are long lasting and durable. They can power larger decks and run at higher ground speeds, making them a good choice for fleets that mow larger properties. Diesel fuel costs are slightly higher than gas; however, diesel engines are more efficient than gasoline engines, reducing fuel consumption.
As an example, Exmark's Lazer Z diesel mowers feature our patented RED Technology. When paired with cutting-edge EPA Tier 4-certified Yanmar diesel engines, RED increases engine responsiveness and reduces fuel consumption. Which means these efficient diesel mowers have a lower cost of operation than gasoline machines.
For commercial lawn care companies that operate in residential areas, an added benefit of diesel mowers is their construction can reduce noise. Their shrouded, liquid-cooled engines, low-mounted exhaust, and reduced engine RPM mean diesel mowers are typically quieter than other engine types.
A downside to diesel is its higher up-front investment than gas mowers. There's less choice in size and mower configuration. Typically, diesels are zero turns with large decks; Exmark's diesel Lazer-Z is available in 60", 72" and 96" widths. For commercial operations that mow small lawns, gas mowers have more options available.
Could your operation reap the benefits of diesel mowers? That depends on what you mow and your business model. No matter what mower is the right fit for your business, your local Exmark dealer is the person to talk to.
SHARE