(StatePoint) You might not earn your living taking care of lawns, but that doesn't mean you can't get the same quality of cut as landscape pros.
For a consistently superior cut, experts say average consumers should look for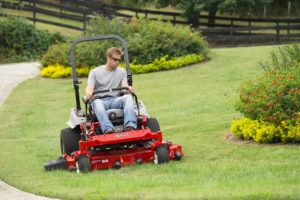 commercial grade products.
"Homeowners can also benefit from the performance and reliability a true commercial mower offers," says Lloyd von Scheliha, product manager at Exmark, a leading manufacturer of lawn care equipment. "You'll get lawn care done faster and it will look better in the end. Your mower will also last longer and require less maintenance."
Homeowners should be advised however that the term "commercial grade" is thrown around a lot these days in advertising. If you're in the market for a new mower, you should understand what commercial grade really means before making a purchase.
"Take a look at the equipment your local landscape professionals are using and you`ll get a good feel for what commercial mowers look like," says von Scheliha.
He says homeowners should consider the following:
Your mower should offer superior durability to stand the test of time. Look for fabricated cutting decks, which are stiffer, stronger and more durable than stamped decks — even reinforced models. The durability advantage should extend to the components as well.
Productivity and maneuverability in a mower offer average consumers time-savings, reducing the time that's needed to cut a lawn, and then do trim work. Consider a zero-turn mower, which delivers a finished appearance more quickly than other mower types.
Even a commercial mower will deliver superior results longer if you perform routine maintenance. Always consult your owner's manual to determine what specific maintenance is necessary for your machine. Cleaning, sharpening or replacing blades as they dull, replacing belts as they become worn, oil and filter changes, and other specific maintenance as outlined in your owner's manual, will improve equipment performance and longevity.
More information about lawn care and commercial grade lawn equipment can be found at Exmark.com.
This season, take steps to be informed so you can mow like a pro.
SHARE