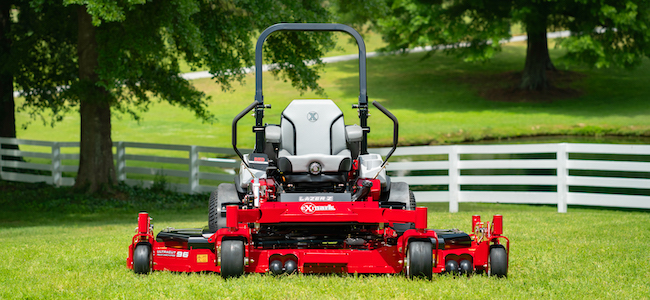 For many lawn care operations, a simple formula of mow more lawns, faster, yields financial success. A key component of that formula is the mowers you use. Larger, more powerful equipment can increase the number of properties you mow on any given day. Success of your business hinges on mowing more lawns, faster, without increasing staff. The trick is deciding which size wide-area mower is right for your business, so that you aren't paying for too much mower.
How Wide are Wide Area Mowers?
Typically, wide area mowers have cutting decks larger than 48 inches and come in walk-behind and zero-turn models. They cut more with every pass and are designed for efficiency at higher speeds. A propane or diesel engine can increase fuel efficiency, reducing your operating costs. And because they're designed for professional use, they're built for reliability and daily use.
But before you replace your entire fleet of mowers with a couple of 96" flex wing zero-turns, review the properties you currently mow. Wide area mowers tend to perform best in open, flat terrain. Think parks, athletic fields and acreage lawns. If your current portfolio includes large commercial properties, or residences with 3-acre lots in the Great Plains, that 96" mower could be just the ticket. However, if you mainly mow on rolling terrain or uneven ground, a smaller sized walk behind mower might be better, as too wide of a mower will scalp areas. Additionally, if most of your properties have trees, shrubs and other obstacles, the largest deck sizes will make mowing around them more difficult.
Deck Size by Property Size
A good rule of thumb is to look at lot size. On lots the size of a football field (1.63 acres) or larger, deck sizes of 48" and up may be a good fit. If you routinely mow areas larger than 2 acres, consider 52" or 60" decks; 72" and 96" decks could be the right choice for companies with municipal or cemetery contracts. If your business specializes in residential lots smaller than an acre and a half, you may be better served by a smaller mower with a deck between 36 and 42 inches with a bigger engine and faster mowing speeds.
Consider Wide-Area Walk Behinds
While zero-turns are great choices for commercial mowing operations, advances in technology have made wide area walk-behinds more comfortable to operate and require less effort. Exmark makes walk-behind mowers with hydrostatic drives, more efficient engines, Enhanced Control Systems (ECS), and improved ergonomics that reduce operator fatigue worth taking for a test mow. Pair a wide-area walk behind like the Turf Tracer X-Series with a sulky and transform it to a stand-on mower for extra-large properties. And a wide deck on a walk-behind may help reduce scalping on hilly terrain better than a ride-on with a similar size deck. In addition to hilly terrain, walk-behind mowers are also recommended near or around potential hazards like water features or steep drop-offs.
Transport
You've got to get the mowers to your job sites, so be sure to take your existing trailer size into consideration when making your decision. If a larger mower won't fit on your trailers, factor additional trailers into your cost-benefit analysis. You'll need a full width ramp for trailering many wide area mowers.
New for 2020
If, after running the numbers, you find that your business could support the additional expense of a wide-area mower, and you have the terrain that would make the widest zero-turn mower feasible, consider the new gasoline powered Lazer Z.