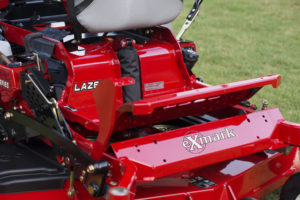 Exmark has added suspended operator platform-equipped 52-inch Lazer Z E-Series and 72-inch Lazer Z X-Series options to the existing 60-inch options in both models for the 2016 model year.
The suspended operator platform uses three coil-over hydraulic dampers to significantly reduce the impact of bumps and vibration. It provides 3.6-inches of travel in vertical and fore-aft directions, with trailing arms to limit lateral travel and increase operator stability.
"We initially launched the suspended operator platform on 60-inch versions of our Lazer Z E-Series and Lazer Z X-Series mowers, as it's our most popular cutting deck size," said Exmark Director of Marketing, Daryn Walters. "Almost immediately we began to receive calls, emails and social media messages inquiring about the platform's availability with other cutting deck widths.
"These new models are the direct result of the feedback we received."
The suspended operator platform preserves the performance advantages of that have made the Lazer Z the most popular commercial zero-turn mower on the market, and it significantly reduces the negative effects of mowing rough terrain on the operator. The design is easily adjustable for operator weight and ride quality preference without tools, making it easy to achieve the desired ride quality for any operator. There's no harsh bottoming, regardless of operator weight, and the design eases access to hydrostatic drive system components, making routine maintenance easier to perform.
Suspended operator platform-equipped Lazer Z models are equipped with a new seat design that uses patented Elastomeric Vibration Control (EVC) stretch fabric and plush foam padding for maximum comfort. In addition, Exmark's patented Iso-Mount isolation system provides a controlled .75-inch of lateral and .5-inch of vertical isolation to further insulate the operator from bumps and vibration.
Learn more about the advantages of Exmark's suspended operator platform-equipped Lazer Z models and locate your local Exmark dealer at Exmark.com/Exmark-Advantage.