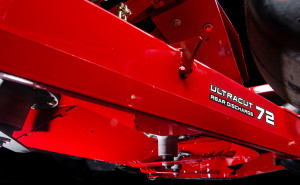 The innovative UltraCut Rear Discharge cutting system is an option for the first time on the new Exmark Lazer Z X-Series zero-turn riding mower for 2016.
The UltraCut Rear Discharge cutting system offers a number of benefits including reduced noise, increased clipping control and the ability to trim on both sides of the deck. Patented flow-control baffles work in conjunction with a counter-rotating blade design to reduce clipping over-processing and horsepower requirements, while delivering even clipping dispersion and the company's signature quality of cut.
Exmark Director of Marketing, Daryn Walters, said rear-discharge cutting decks make sense for a wide range of the company's customers, from landscape professionals to acreage owners.
"The UltraCut Rear Discharge cutting deck solves many of the challenges our customers face every day. From the reduction in noise to the increase in clipping control and ease of trimming, rear-discharge is a great way to maximize productivity and versatility without sacrificing cut quality."
The Lazer Z X-Series is the most powerful, productive mower Exmark builds. UltraCut Rear Discharge-equipped units feature powerful Kohler twin-cylinder powerplants with Electronic Fuel Injection (EFI). EFI helps the engine deliver more consistent performance and improved fuel economy in any cutting conditions.
The UltraCut Rear Discharge mowing system is designed for maximum productivity and cut quality. Available in 60- or 72-inch cutting widths, the 5.5-inch deep deck uses a welded and reinforced 7-gauge, high-strength alloy steel shell for superior strength and long-term durability. The no-maintenance spindles are sealed from the elements and designed to deliver a lifetime of reliable service without greasing. Exmark designed compression molded, ultra-high molecular weight side bumpers to protect both sides of the deck. The bumpers work in concert with durable through-axle anti-scalp rollers to precisely follow ground contour.
In addition to the new Exmark Lazer Z X-Series, the UltraCut Rear Discharge cutting system is available on the following models:
For highly manicured properties, Exmark offers a Finish Cut baffle kit for the UltraCut Rear Discharge cutting system. When installed, it significantly reduces visible clippings to deliver similar performance to a dedicated mulching mower deck, with the reduced sound output and power requirements of the rear-discharge design.
Learn more about Exmark Rear-Discharge zero-turn riding mowers at Exmark.com.