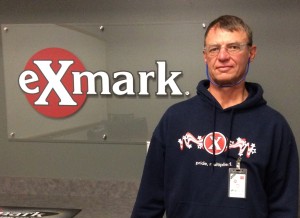 Don Uher is a Value Stream Manager in the Exmark manufacturing operation. He's been an important part of the Exmark team for more than 18 years. Today, we'll learn a little more about Don and his background.
Where are you from?
I grew up on a farm near Daykin, Nebraska (approx. 30 miles west of Beatrice), and today live on that same property, which is now an acreage.
Tell us about what you do at Exmark?
I'm responsible for the safety, quality, delivery, efficiency and morale of the north value stream at Exmark. I do just about anything that needs to be done in order to keep the assembly lines operating efficiently. I have an outstanding group of supervisors and support personnel who really do the hard work to get it all done. I have to name them all, as they really are the ones who, on an hour-by-hour basis, keep it all running smoothly. They include:
Manufacturing engineers: Justin Schuck and Brandon King
Supervisors: Dave Ullman; Vicki Pearce; Scott Wolbert; Rafael Oman; Chris Riley; Rick Miller; and Ronda Mewes in the Tool Crib.
They are a great group and do their best to build the highest quality product every day.
What's your favorite part of working at Exmark?
I've been fortunate to have formed great friendships with a lot of people over the years. That's the best thing I'll take away from my time at Exmark.
What do you like to do in your free time?
My wife and I usually have too large of a garden, but I also hunt and fish, and we cherish every moment we get together with our grandchildren.
If you could have lunch with any person, who would it be?
People are just people. Some have had more success in life, some less, so meeting anyone in particular doesn't hold a great deal of interest for me. The "person" I would most like to commune with though would be my Lord, Jesus Christ.
What's the most surprising thing people might not know about you?
The most surprising thing about me people don't know won't be revealed today, but something interesting I'm willing to share is that I make a really good batch of peanut brittle. It's fantastic!