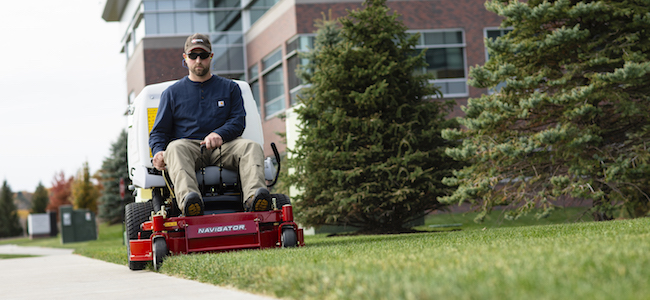 One big concern for professional mowing operations is what to do with all the grass clippings? If you give your customers the choice of bagging or mulching, you end up needing to do both, which means you have to clear them away and deal with them later. If you only bag and remove clippings, you could end up dealing with hundreds of pounds of waste at the end of every day. A mower like the Exmark Navigator with its dedicated bagging system and patented fill reduction can help solve the clippings problem.
Navigator's Dedicated Bagger
Whether you choose the 42" or the 48" Navigator, it comes with a 76-gallon capacity bagger – and an optional powered dump attachment system, so you can empty faster, with less effort, and get back to bagging. We used an exclusive baffle design to fill the bag evenly from front to back, so you can mow more efficiently on large lawns, and may not need to empty the bag between small lawns.
Navigator delivers manicured lawns that satisfy the sort of person who would pick up a stray clipping with tweezers. That's because the larger diameter blower generates more airflow, allowing Navigator to collect more clippings and debris.
Thorough clipping collection and bagging is especially important if the lawns you mow have fungal diseases like red thread, rust diseases, or brown patch. Mulching may spread the fungal infection to health areas of the lawn.
Sometimes You Bag, Sometimes You Mulch
When you mulch, the higher blade tip speed slices grass clippings into finer particles, for better distribution. With Navigator, clippings blend into the lawn rather than leaving unsightly clumps of drying grass. The patented fill reduction system lets you adjust how much of the clippings get bagged. You can easily adjust to mulch none, 67%, or 100% of clippings. Partial mulching will help maintain the manicured lawn look customers demand, while delivering nutrients to the lawn; it will also reduce the volume of clippings you deal with at the end of the day, especially during high growth seasons like spring and fall.
Targeted Center Discharge During Mulching
Navigator's center discharge deck with dual-sided trimming means precise clipping control, so that flower beds, sidewalks and driveways don't end up covered with clippings. Navigator saves you time over side-discharge mowers, where you may end up have to blow or sweep clippings off pavements and sidewalks. When bagging 100% of clippings, that larger diameter blower means you won't have to tidy up what the bagger didn't catch.
The Exmark Navigator
Navigator's dedicated bagging system benefits can be enhanced with a range of accessories, including dump tubs, powered dump, an automated door opener kit, and a micro-mulch system. With mowing speeds of up to 7 mile per hour, it will be no surprise if you find your operation mowing more productively and neatly than before.
Ready to find out if Navigator is the mower your business needs? Talk to your Exmark dealer.