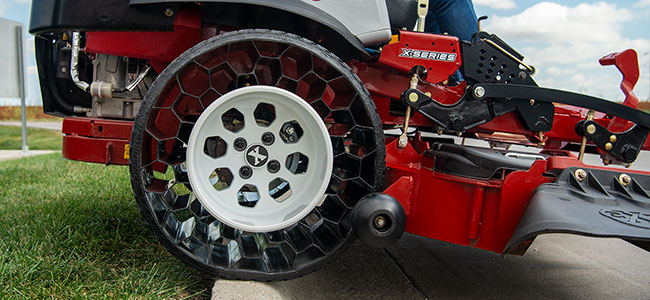 At Exmark, we build mowers to make lawn maintenance easier and faster for pros and homeowners alike. We know that having to stop and deal with flat tires is more than a minor hassle. For pros, it's a delay that makes the job take longer. For homeowners it can mean sacrificing your all too scarce free time to get it fixed. We wanted to eliminate flat tires entirely, so we set out on a multi-year development process that involved in-house and field testing. The result: Our new airless Tractus tire and wheel combo.
Exmark's team found three critical improvements compared to pneumatic tires. Tractus tire and wheel combo do not go flat, meaning less downtime for commercial mowers, and less maintenance for homeowners.
Tractus also provides a similar ride quality to traditional pneumatics tires but offers a longer service life. And while you're mowing, they provide more consistent ground pressure with a larger contact patch. This reduces turf compaction and provides a better overall cut quality. And the unique tread design offers superior traction in a wide range of turf conditions.
Airless Tractus tire and wheel combos will be available on gasoline powered Lazer Z models beginning in early 2020. Interested in taking them for a test drive? See your local Exmark dealer.
SHARE