(StatePoint) Every lawn mower requires routine maintenance to keep it running with efficiency and maximum performance. If a breakdown occurs or parts wear out, it's much more cost-efficient to simply replace the worn parts than it is to buy a whole new mower.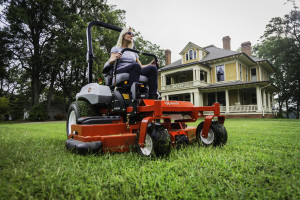 To keep your mower functioning optimally, consider the following:
Regular Maintenance
Follow your manufacturer's suggested maintenance schedule. Check your owner's manual or your mower brand's website for information on when and how to maintain your  machine, including checking and changing engine oil and filters, hydraulic filters, belts, air cleaners, spark plugs and more. This upkeep on your mower can prevent unscheduled downtime and costly repairs.
Replace Parts Wisely
"Modern mowers are designed to function as a system; they aren't just a collection of parts," says David Martin, customer service manager at Exmark, a leading mower manufacturer.
While virtually any company can sell parts that are almost right for your machine, Martin advises using original parts from the mower manufacturer. Brands such as Exmark, for example, extensively test every part and accessory for hundreds of hours to ensure they won't compromise the safety, productivity or durability of the mower, or the quality of cut it provides.
"There is great value in using genuine Original Equipment Manufacturer (OEM) parts, as opposed to cheaper "will fit" alternatives, when replacing belts, blades, filters, lubricants and other mower parts," says Martin.
To learn more about the differences between using generic replacements from an aftermarket company and OEM parts, visit www.exmark.com/OriginalParts.
Whether you mow your lawn often or just a few times a season, be sure to take good care of your mower, paying attention to the suggested maintenance routine. It's always better to prevent a problem before it becomes an issue. And doing so will improve the quality of each cut and extend the life of the machine.
SHARE