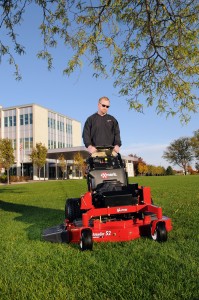 It's been almost a year since the introduction of Vantage, our stand-on mower, and since then, the positive reviews have been pouring in.  The features that really stand out in the minds of pros and dealers are the mower's platform and suspension system, and the exclusive Exmark deck.
When we first started working on Vantage, we spent a lot of time with customers, talking to them, watching them work and figuring out their pain points. We discovered that comfort is key for the guy who is standing all day long. We designed the suspension to be easier on the operator's knees and joints. And, as always, the deck delivers the distinct Exmark cut.
A few of our customers mentioned that they actually waited for the launch of this machine to buy a stand-on mower. They also told us it was well worth the wait. That makes us very proud.
Vantage features:
Powered by 20 or 24 hp Kawasaki V Twin engines.
Ergonomically designed steering system includes an adjustable front reference bar that can control the top-end speed of the machine.
Self-compensating suspension makes standing easier for pros of all shapes.
Platform folds up, allowing the machine to function like a walk-behind.
Superior traction and handling allows you to mow, changing landscapes effortlessly.
Angled platform sides allow operator to shift body weight for a smoother ride when mowing hillsides.
Greaseless spindles eliminate the need for yearly greasing.
11 x 4.0-5, smooth-tread, semi-pneumatic front caster tires for increased reliability.
20 x 10.0-8 Turf Master drive tires for optimum traction. Tough 1.5″ x 3.0″ steel-frame blades ensure maximum durability.
Integrated tie-down points for secure trailering.
Have you been on the Vantage? Share your thoughts below.
SHARE