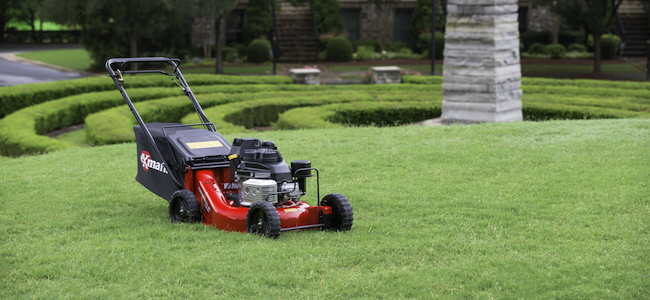 Whether you're a homeowner or a lawn care professional, if you're shopping for a new walk-behind mower this year, be sure you have the right mower for your needs. Mowers vary in power, width and performance, so take the time to determine which features are best for your lawn size and terrain. Here are some of the most important things to consider.
What is your lawn size and terrain? If you only have half an acre to mow and it's perfectly flat, your mower needs will vary from someone who has three-quarters of an acre with steep inclines. The larger and hillier your lawn, the more likely you are to want a self-propelled walk-behind with a more powerful engine. Opting for a 30" mower instead of a 21" mower can improve your productivity by up to 40%, reducing the time you spend mowing.
Is it easy to adjust? The height you mow at can change from spring to summer to fall, so look for a lawn mower that adjusts easily. While you're shopping for a mower, test adjusting the cutting height. And it should be easy to adjust the handle, so that you can mow comfortably without undue stress on your arms and shoulders. This is extra important for lawn care operations where multiple people use the equipment.
Will it mulch? Mulching clippings keeps nutrients in your lawn and reduces your work time while leaving your lawn looking tidy without raking. And even if you bag your clippings, mulching will help keep the bag from filling as quickly. Look for either a built-in or add-on mulching kit.
Single speed or variable speed? If you've opted for a self-propelled mower, take the time to decide between single speed or variable speed transmissions. Variable speed makes the mower conform to your pace, rather than you conforming to the mower speed. If multiple people use the mower, a variable speed transmission can allow each of them to mow at a comfortable pace.
Will it last? While you may pay more upfront, a mower that lasts 10 years will cost less over its lifetime than a less expensive mower that needs to be replaced after two years. Look for a commercial-grade walk-behind built for hard usage.
If you have a larger lawn, or mow properties with hills, Exmark's Commercial 21 and Commercial 30 walk-behinds may fit the bill. These self-propelled lawn mowers are designed for commercial landscaping, so they're long lasting and deliver a professional quality cut. They're easy to adjust, can mulch, bag, or do a combination of both, and will make mowing less of a chore. To learn if a Commercial 21 or Commercial 30 is right for your lawn, contact your local Exmark dealer.