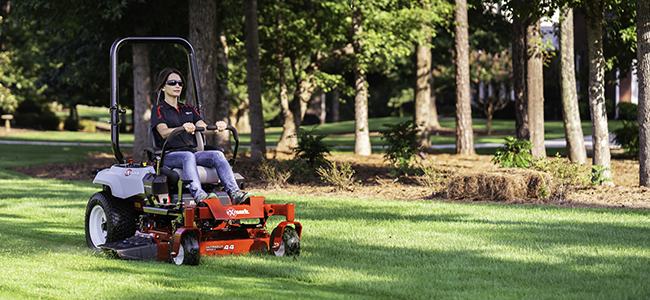 Exmark Radius® E-Series is now available with a 44-inch deck. This is great news whether you're a homeowner with a medium-sized yard or you run a commercial landscape business serving medium-sized properties. You'll get the commercial-grade features and value package of Radius in a smaller footprint.
A 44-inch zero-turn mower is ideal for medium-sized yards, or an acre to an acre and a half. It would also be suitable for larger lawns in tough terrain, or large yards with a lot of obstacles. Wider mowers may scalp areas on uneven ground, and make maneuvering around and between things more difficult. Mowers with a more powerful engine and a smaller deck can mow faster, without sacrificing cut-quality and precision, on large hilly yards. If you aren't sure what size mower is right for your lawn, check out our guide.
The Radius E-Series with a 44" deck can mow up to 3.11 acres per hour, while delivering the cut-quality you expect from an Exmark. It features a 24.5 HP Exmark V-Twin engine, and has a top forward speed of 7 mph. The full-floating UltraCut® Series 3 deck can be adjusted from 1.5" to 5.0" from the operator's seat. Side discharge is standard, and can be rigged to bag or mulch. Like all UltraCut decks, it features our exclusive maintenance-free, sealed-bearing spindle assemblies for increased durability and reduced downtime.
Large front caster tires provide better clearance and reduced turf compaction. The heavy-duty unibody frame design arranges components for a lower center of gravity. And the zero-turn design combined with the smaller footprint makes it easy to maneuver around obstacles and in and out of tight corners.
Radius E-Series commercial zero-turns provide the best of both worlds: Commercial-grade performance and an attractive price tag. Find your local Exmark dealer to see if it's the right mower for your property.
SHARE