Quicken Loans and Realtree contest features Exmark mower, Talladega Superspeedway trip, among other prizes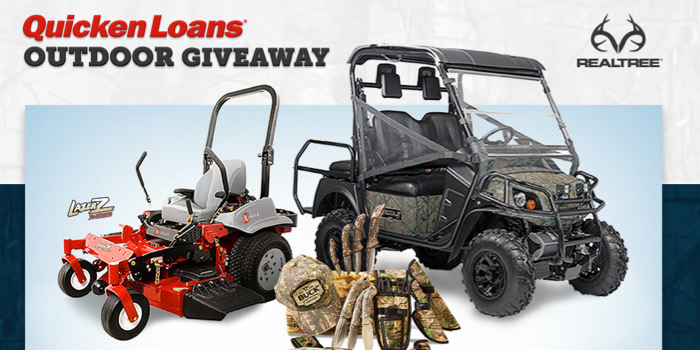 The Quicken Loans Outdoor Gear Giveaway, recently launched by online mortgage lender Quicken Loans and camouflage designer Realtree, is looking to make one lucky outdoor enthusiast's dreams come true with a NASCAR- and outdoor-themed grand prize package. With a value of more than $40,000, the package includes a Bad Boy Buggies Recoil iS 4X4, Exmark Lazer Z X-Series lawn mower, a year's worth of mortgage payments compliments of Quicken Loans and a three day, two-night trip for two to Talladega Superspeedway, among other prizes.
To enter, visit TheQLOutdoorGiveaway.prizelogic.com. Each person can enter the contest once per day, and can boost their chance of winning by referring friends and family members through their Facebook and Twitter accounts.
"This high-horsepower contest has something for everyone, from the avid outdoor adventurer to the most die-hard NASCAR fan," said Jay Farner, President and Chief Marketing Officer of Quicken Loans. "When we plan out our promotions we are always looking for fun and exciting ways to engage with our current and future clients, and this giveaway definitely fits the bill."
In addition to the grand prize, consumers can also visit the TheQLOutdoorGiveaway.prizelogic.com site daily to play an instant-win game for a month's mortgage payment, Otterbox phone cases, Fathead wall-graphics, and many other prizes.
"Aside from all the great outdoor prizes, I can't wait to join the grand prize winner in the Realtree suite at Talledega," said Bill Jordan, Realtree Designer and President. "It's one of NASCAR's most legendary tracks and it never fails to host an exciting race."
To be eligible for the Quicken Loans Outdoor Gear Giveaway, entrants must be 18 years of age and a U.S. citizen. The giveaway ends December 31st, 2014 with the grand prize winner announced in early 2015.
Click to download the Quicken Loans Outdoor Gear Giveaway full-page PDF.
SHARE