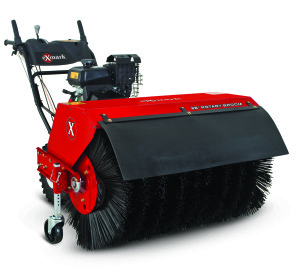 Here at Exmark, we work with a lot of folks that maintain landscapes for a living. That much is no surprise. But what do landscape professionals do when the grass isn't growing? A lot of them make money moving snow!
While it may seem logical that a traditional two-stage snow thrower, or a truck-mounted blade, would be the tools of choice for these guys, many are finding more versatile, productive equipment is available. So now, they can clear more properties and make more money when the snow is falling.
For a growing number of these pros, one of the most effective snow removal tools in their arsenal is the Exmark Rotary Broom. The 36-inch wide brush makes quick work of snow and ice removal on virtually any concrete surface, from walks, to drives or patios. Bristles are designed to minimize surface contact, so material can be cleared to the surface without damage to the surface itself.
Exmark's patented power steering delivers pinpoint control for maximum maneuverability, and it's easy to optimize broom height for the conditions. Available accessories including a snow cab and tire chains allow the Rotary Broom to be further optimized for winter use.
For as great as the Rotary Broom is at snow and ice removal, Exmark designed it to deliver value in all four seasons. Accessory turf bristle discs make short work of dethatching in the spring and fall, while the standard black bristle discs are optimized for hard surfaces. The black discs can be used for a wide variety of clean-up, from snow and ice removal, to dirt and yard debris.
Learn more about the Exmark Rotary Broom today at Exmark.com.