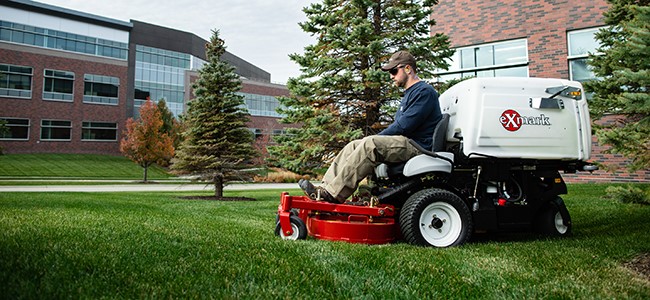 Lawn care companies demand a lot more of their mowers than the average homeowner. Professionals' mowers must be reliable, efficient and profitable to operate. They must be flexible enough to mow lawns large and small, office parks or municipal properties on any given day. Performance mowers with electronic fuel injection (EFI) and RED Technology can answer that demand, by making mowers more fuel efficient, reliable, and profitable to run.
RED Technology On-Board Intelligence System
With Exmark's patented RED Technology, the mower's key systems communicate with each other. In addition to extending mower life, RED Technology improves performance, production, and fuel efficiency. Defined operating modes maximize fuel efficiency.
Running the mower in low mode allows you to operate during wet or damp conditions, and reduces the occurrence of deck packing. The mower operates at peak performance in efficient mode, with reduced fuel usage and protection against wear and tear. Max mode delivers extended power for difficult conditions like thick, tall grass and steep grades.
RED Technology also has six customizable engine speed set points. Operators can easily switch between different power levels without interrupting the power and pace of the mower. Should a major problem happen, "Safe Transport Mode" allows for safe return for servicing.
Electronic Fuel Injection (EFI)
A mower with EFI maintains engine RPM and blade speed, so you continue to operate at top performance and efficiency, no matter how tough the terrain and grass conditions. Traditional carburetors approximate the ratio of fuel to air, EFI mowers operate by using pressurized injectors to spray exact amounts of fuel into the air system. As a result, the mower experiences increased performance and efficiency. EFI has been tested and shown to improve efficiency by up to 25% over other traditional carburetors and mowers.
Performance Mowers
Two of Exmark's performance mowers with EFI are the 48" zero-turn Navigator and the wide area walk-behind Turf Tracer. These mowers were designed for two different types of commercial operations.
Navigator is the mower you need for high-end properties. It delivers manicured lawns with no stray clippings, thanks to its dedicated collection system with a large diameter blower to improve hopper fill. A center-discharge deck with two-sided trimming increases clipping control, so flower beds and walkways remain free of debris. But with its efficient EFI engine, it reduces fuel consumption, saving operators up to 25%.
Turf Tracer X-Series and S-Series are engineered for speed, efficiency and durability, while providing a quality of cut that's second to none. Full floating decks between 36" and 50" mean these workhorses are applicable to a wide variety of property sizes and types. Turf Tracer delivers unmatched operator comfort, keeping your crew productive all day long. Enhanced fuel efficiency and reliability help keep you profitable.
Want to see if any of the Exmark EFI mowers are right for your business? Contact your local dealer.
SHARE