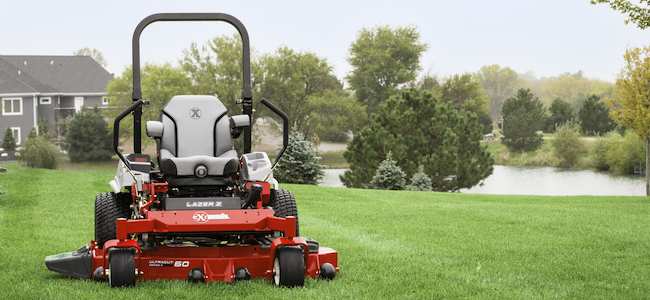 As the weather heats up, so does commercial mowing season. With the sun shining and the grass growing taller, it's important that your crews stay efficient during the busy season. Staying efficient and keeping costs down isn't always an easy process. However, two advanced technologies from Exmark are leading the way to save you money and fuel, while improving overall mower performance.
What is RED Technology?
Exmark's patented RED Technology lets key systems on your mower communicate with each other. This will not only extend the life of your machine, but you will also see enhanced performance, production, and better fuel efficiency while using RED Technology.
LCD display screens give crew members the ability to switch between three defined operating modes in order to maximize fuel efficiency. To start, putting the mower in low mode allows you to operate during wet and damp conditions, along with reducing the possibility of any deck packing to occur. The mower operates at peak performance in efficient mode, while also reducing fuel consumption and helping protect against machine wear and tear. For tough and demanding conditions, max mode delivers extended power to get you through thick, tall grass and steep grades.
Along with the three defined operating modes, RED Technology also gives you the option to select from six customizable engine speed set points. This easily allows you to switch between different power levels without interrupting the power and pace of the mower.
The RED Technology system also extends your clutch life, while working to reduce RPM. This minimizes stress and wear on parts. As a result, you operate more efficiently, with improved mower durability.
A final benefit of using a mower with RED Technology is its system monitoring functions. This patented technology enables drivers to track their engine temperature, oil levels, overall electrical system, and much more. You can relax while mowing, knowing all systems are continuously analyzed. And if a major problem happens with your RED Technology equipped Exmark mower, simply put it into 'Safe Transport Mode' to ensure that the mower can be returned safely for servicing.
Electronic Fuel Injection (EFI) Mowers
Another piece of great technology that Exmark has incorporated into their mowers is EFI. Mowers with EFI virtually eliminate governor droop, so they maintain engine RPM and blade speed. You continue to operate at high performance while using less fuel, regardless of the terrain and grass conditions. Unlike traditional carburetors that approximate the ratio of fuel to air, EFI mowers operate by using pressurized injectors to spray exact amounts of fuel into the air system. As a result, the mower experiences increased performance and efficiency. EFI has been tested and shown to improve efficiency by up to 25% over other traditional carburetors and mowers.
Exmark RED Technology and EFI Mowers
Select Exmark zero-turn mowers that are available with EFI include Lazer Z E-Series, S-Series and X-Series mowers, and Navigator residential mowers. For commercial operations that require a walk behind with EFI, check out the Turf Tracer S-Series and X-Series. RED Technology is available on all Lazer Z Diesel models, and select Lazer Z S-Series and X-Series models. Want to test one for yourself? Find your Exmark dealer.
SHARE