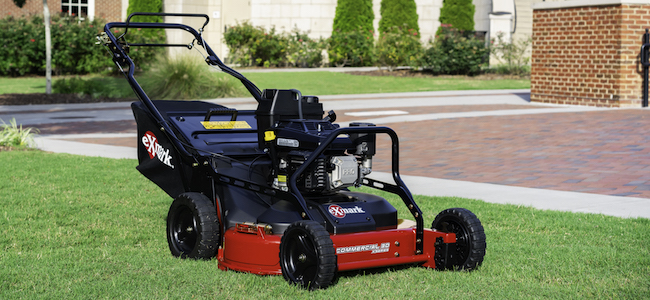 Exmark's new Commercial 30 X-Series gives lawn care pros another choice of self-propelled mowers. The Commercial 30 X-Series builds on the strengths of the Commercial 30. We've given it more power, increasing the productivity of the machine and the efficiency on small properties.
The increased power comes from a Kohler Command Pro CV200 engine. Increased displacement gives it 30% more torque than competing engines. Other notable features of the CV200 engine include cast iron cylinder liners, dual splash and pressurized lubrication, and Quad-Clean air filtration for enhanced protection from debris and contaminants. Cast aluminum oil and air filter bases, along with a steel blower housing provide increased durability in tough conditions. The engine is protected by Kohler's three-year limited commercial warranty.
To make the most of the Kohler engine's additional power, Exmark upgraded the transmission on the Commercial 30 X-Series. Increased wheel torque helps it power up hills, with easier tracking on side hills. Positive drive design couples both drive wheels, providing maximum traction in all conditions. The heavy-duty wet clutch transmission and self-tensioning belt drive are designed for minimum maintenance and maximum reliability in the most demanding commercial applications.
A 4.6-inch deep, 30-inch wide cutting deck delivers Exmark's signature cut quality. The 3-in-1 deck design allows landscapers to change from side discharge, to bagging or mulching, without tools or delays. That 30-inch deck cuts 40% more per acre than the industry-standard 21-inch walk-behind mower, but its compact design enhances maneuverability. And it's not just width that makes Commercial-30 X-Series more productive. At an infinitely variable ground speed of up to 3.8 miles per hour, you'll mow up to .97 miles per hour.
In addition to durable and reliable, we built the Exmark Commercial 30 X-Series to be efficient so you can save money on fuel costs. A timed, two-blade cutting system reduces power requirements. A simple timing belt system maintains blade position and isolates the engine from shock load. A high-performance mulch kit optimizes mulching performance, even with wet, heavy grass. Use it with a bagger for fill reduction to reduce time spent emptying and replacing the bag.
With these enhancements, the new Commercial 30 X-Series could become your company's small property workhorse. Want to check it out? Find your local Exmark dealer.
SHARE