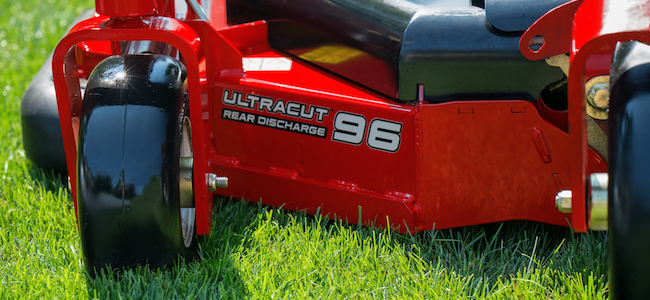 If you're buying a new mower, one of your first decisions is between a side-discharge or rear-discharge deck. UltraCut rear-discharge decks are viable solutions for professionals who want increased clipping control and the ability to trim on both sides. If you're looking for a new residential mower, here are some reasons for choosing a rear discharge deck.
Increased Clipping Control
Rear-discharge mowers send clippings out the back of the deck in a wide pattern for increased clipping and debris management. Because of this, they reduce the likelihood of rocks, debris and foreign objects being discharged at high speed, a big plus in residential neighborhoods and high population areas.
No Need to Plan Your Pattern
With a side-discharge mower, you need to plan your mowing path so you trim against obstacles, plantings and sidewalks with the discharge chute pointed away from it. With a rear-discharge mower, you can take the most efficient path, and trim on both sides of the deck.
More Efficient Mowing with Reduced Noise
Exmark's UltraCut Rear-Discharge decks use a counter-rotating blade design and patented Flow Control baffles to reduce clipping over-processing. Because clippings are cut once and discharged, our rear discharge decks are more efficient than equivalent side-discharge decks that pass clippings from blade to blade before discharging them. As an added benefit, discharging clippings behind the deck and under the mower reduces the noise level of the cutting deck for both the operator and people nearby.
Rear-Discharge Mowers and Bagging
If you're a homeowner who prefers to bag their clippings, you may be reluctant to consider a rear-discharge mower. The wide distribution of clippings reduces unsightly clumps, improving the overall look. Micro mulching kits that chop clippings into small particles remove the need for bagging and help feed your lawn.
However, with the Exmark Navigator, you get the best of both worlds. The center-discharge cutting deck with patented fill reduction baffles funnels clippings to a large containment system. Navigator lets you choose to bag 100% of the clippings or mulch 100% of the clippings. You also have the option to utilize its fill reduction system, which greatly reduces the amount of clipping collected while the rest are mulched into the ground. Either way, your lawn is neat and tidy, just the way you like it.
If you're interested in an Exmark rear-discharge mower, you can test the Radius S-Series Rear-Discharge or a Lazer-Z Rear-Discharge at your local Exmark dealer.
SHARE