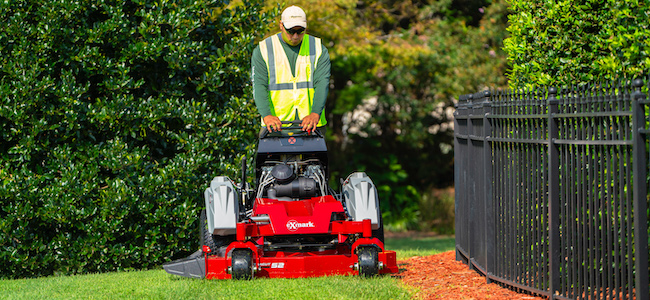 There are many benefits to stand-on mowers, including improved visibility and user control for more precise mowing. Could stand-ons be the right option for your mower fleet? If you're not sure whether to upgrade to stand-on mowers or to stick with walk-behinds, here are some questions to help you decide.
What Size Properties Do You Mow?
The size of properties you mow is a big factor. If you mow exclusively large properties (more than an acre and a half) without a lot of obstacles, then a zero-turn mower may be a better option. Stand-on mowers are great for small to medium sized properties with landscaping and obstacles. Think suburban lawns, especially those with curved flower beds, irregular lot lines, or a lot of trees. Lots between half an acre and 1.25 acres are good candidates, however, a compact model like the 32" Staris E-Series would work well on small lots (less than half an acre).
Do You Need to Fit into Tight Spaces or Through Gates?
Stand-ons are easy to maneuver into tight spaces. They provide excellent sightlines to the operator, and allow for greater precision. It's also easy to step on and off to move obstacles. The compact 32" E-Series fits through a standard 36" gate, which is important if you work in neighborhoods with fenced yards and garages in the alley.
What Type of Terrain Do You Mow?
When we designed the Exmark Staris, we placed heavier components like the engine low on the machine to lower the center of gravity and to improve balance and stability. If you work in an area with tough terrain, a stand-on may be the right choice, regardless of the size lawns you mow.
How Much Room Do You Have on Your Trailer?
If space on your trailer is tight, you'll like that stand-on mowers have a smaller footprint and are easier to transport. Staris was designed to be compact, regardless of deck width, and to make loading and unloading easier. The suspended operator platform on the S-Series folds up, further maximizing your trailer space.
Do You Need to Mow a Lot of Properties Quickly?
Of course you do. Depending on deck width and configuration, a stand-on mower provides increased productivity over a walk-behind, because it mows at speeds faster than a person can walk. The Staris Stand-On mower has a top ground speed of 10 mph, and with a 60" deck can mow up 4.8 acres per hour.
If upgrading to stand-on mowers makes sense for your business, the Staris comes in a variety of deck widths, from 32" to 60". Like all Exmark mowers, it was designed to be durable, reliable and provide excellent cut quality and superior operator comfort. Ready to learn more? Contact your local Exmark dealer for a test mow.
SHARE