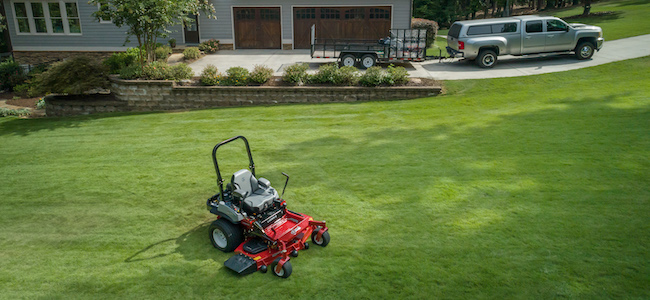 2019 was a record year for flooding, and they caused serious damage and hardship. If you are a homeowner whose lawn was affected by flooding last year, you may just be getting around to your lawn, and you will have your work cut out for you. And if your lawn was under water for an extended period of time, had more than an inch of silt, or was flooded by salt water, returning it to its former beauty will take a lot of work. Follow these steps to get a lush lawn after flooding.
In extreme cases, you will likely have to re-sod your lawn because the turf has died. Ornamentals and trees may survive, but that will depend on their hardiness and species. But there's a chance your lawn can survive with attention. Here are the steps you'll need to take to get it lush and green again.
Step One: Clear out any silt and items left behind by flood waters. You may find that silt was deposited unevenly, giving your lawn new contours and grades. Scrape off and haul away silt, even small amounts, as it will likely contain contaminants like petroleum products and industrial chemicals. Fill in any washed out areas with top soil. You want your lawn to be as level and even as possible, so rake top soil into low areas.
If you had areas that didn't drain well prior to the flooding, this would be a good time to address those. Installing a dry creek bed can provide visual interest and funnel high waters away from your property.
Step Two: Aerate your lawn. After being waterlogged, the root system needs help. Core aeration will increase oxygen and nutrients uptake by the roots.
Step Three: Consider your lawn a new one, and apply a starter fertilizer to support root redevelopment. This will also support new growth as you complete step four.
Step Four: Seed and/or over-seed. Seeding is best done in late spring or early fall. Look for hardier grass strands if you think flooding will be a recurring issue. Kentucky bluegrass, red fescues, and crested wheatgrass may be good choices, but consult with a garden center for grass types that would work well in your area.
It's a good idea to take it easy on your lawn. Keep off the grass as it reestablishes itself. Avoid overwatering, and when you mow, cut no more than 1/3 of the grass blade length off. Make sure that your mower blades are sharp because dull blades can tear grass; once torn, the grass can be susceptible to disease.
It may take some work to get your flooded lawn back into shape, but it will be worth it. In a few weeks, you will be able to enjoy your outdoor living space and your beautiful new lawn.
SHARE